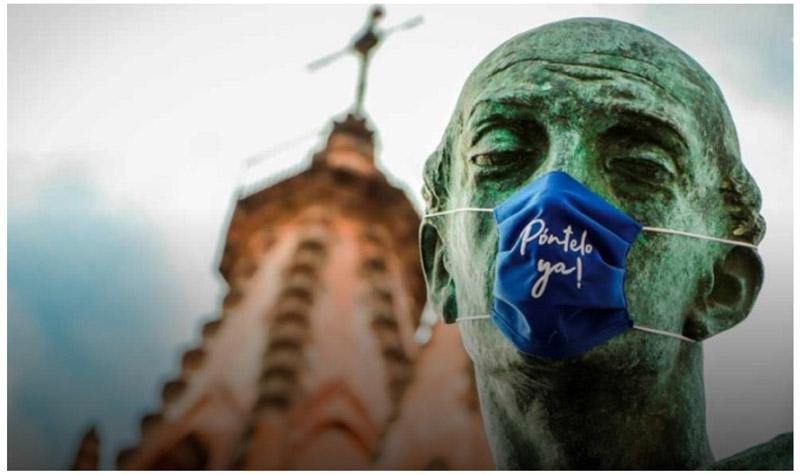 Dec 2020 Update on COVID-19 in Mexico
A patient of Dra. Flores reportedly spread the note below via an unofficial email chain (one colleague reportedly received it three times):
I have just returned from my doctor's appointment (Leslie Flores) where she told me not to leave the house if at all possible. The doctor says that the Cov-19 virus is out of control in San Miguel, that 8 of her patients just came down with it yesterday, almost all of the cases expatriates. Earlier it was Mexicans. She says, yes, people die. She says do not go into each other's houses, meet only one on one only outside if you must. She said it is very serious.
This sounds deeply alarming, as if something has changed since many concerned health and public officials first started warning people about the impact of the coronavirus in Mexico. Since then, concerned observers have warned that the population in Mexico was very poorly prepared for the pandemic and were failing to report the incidence of the virus by a factor of at least twenty. Few city planners seemed to take note. The public showers, social distancing, police etc. seem like "Covid Theater", they have very little evidence of preventing Covid. This illusion of a Covid response is taking money away from alarmingly understaffed medical systems. The Mexican public health system, with an inexcusably inadequate supply of protective personal equipment, (PPE) is contributing to some of the highest death rates of health workers in the world.
What really seems to have raised the level of alarm generated by this recent correspondence appears to be that it is the first "wave" of death and severe illness among expatriates.  Why 8 expatriates infected should be so shocking is unclear. The rapidly rising infection and death rates of Mexicans have been well documented. It appears to be associated with greater numbers of parties, return to religious services, and mixing of the young with the elderly population. Expatriates have in their own way begun to socialize more with far less attention to social distancing and masks.
Once an expatriate gets ill and realizes (despite nine months of presentations, newsletters, daily Facebook postings and posting on the civil list) that the cost of treating Covid is very expensive and private sector hospitalization is often necessary for those with underlying risk factors, a sense of panic and confusion can set in. With the private health care system charging more than $100,000 thousand pesos as a deposit for admitting a patient with Covid, more expatriates and wealthier under-insured Mexicans began to panic. Here locally, MAC hospital "relocated" all Covid patients to other hospitals accepting them. Those hospitals often lack basic equipment, such as ventilators. This relocation was done to accommodate a renal transplant patient but then policies were switched and people infected with Covid were accepted again at MAC hospital a few days later. This information was not widely shared and even physicians working at MAC appeared surprised by the development. One physician was struggling to find a safe bed for a close family member with only a few hours notice of the development.
Information Sources in English 
The expatriate population will be well served to keep up with the Facebook page "Covid19-sma", emails from the web site  https://www.smafaq.com/, Facebook page "Be Well San Miguel", and blog posts on bewellsanmiguel.com
A final note is to urge all of us to save our energy for activities that we know are safest.
The following is adapted from the WHO, CDC and some of the information found on the Covid dedicated Facebook and web sites run here from SMA.
This chart begins with the first known cases per capita (normalized by population) in the world.  The next continues with the number of new deaths of Covid-19 (weekly average) for Mexico, the United States and the European Union.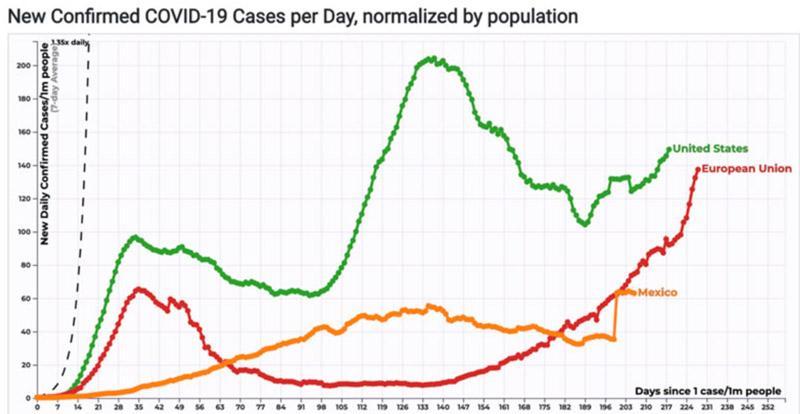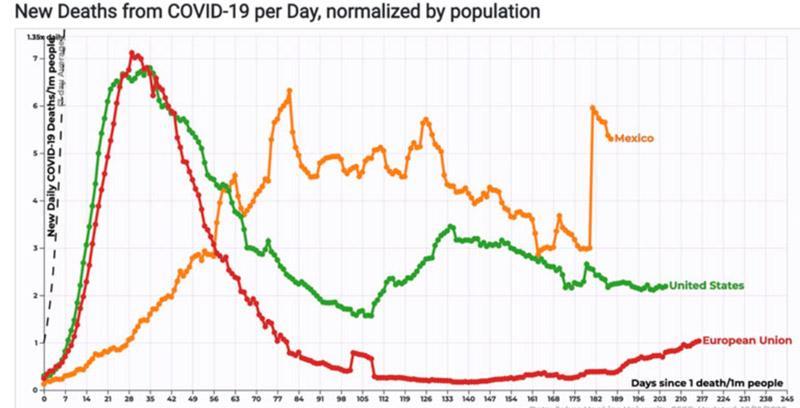 The high number of deaths in Mexico compared to the low number of confirmed cases is bad news and should have been taken more seriously by both national and international health agencies, one can only guess at the magnitude of an epidemic severely hampered by low testing. We don't know how many positive cases there are anywhere in Mexico.
We can guess by comparing the deaths from the same time last year, called "excess mortality", but those rates are not reliable as many Mexicans die at home or of symptoms that appear to be Covid but testing is not done or the diagnosis is not made despite the fact that all classic symptoms were present.  The cause of death is often listed as "Atypical Pneumonia."
The bottom line is that the risk is not different than it always has been – it is just striking much closer to home, and the fantasy that the expatriate community is somehow immune to being affected by Covid, is being dashed.