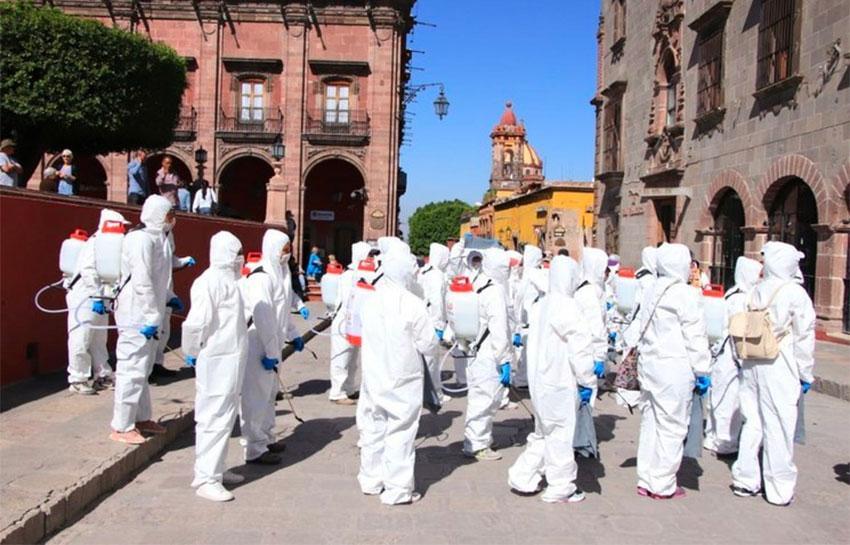 Deborah Bickel reporting from SMA, August 25, 2020
"Tis the times of' plague, when madmen lead the blind." – King Lear, Shakespeare

Mexico has continued down a path that leaves it near the bottom of any governmental responses to SARS-CoV-2 (hereby referred to as simply Covid ). Foreign Policy magazine ranked Mexico 34th out of 36 nations analyzed for how they have handled the pandemic. The magazine's Global Response Index deemed the Mexican government's response to the pandemic one of the world's worst. The criteria for evaluation looked at governmental financial responses and public health policy.

The president, Andrés Manuel López Obrador, has not moved to release funds to strengthen health services and infrastructure nor the health care system. Instead, he cut funding despite the pandemic's severe impact on the economy and the people. The limits in funding translate to limited testing for Covid and no improvement to the public sector infrastructure. This has led to an increase in private hospitals based in areas of relative wealth or areas with industries that provide health benefits for their employees.

Even with very limited testing, Mexico is ranked sixth in the world of per capita cases of Covid. If the vast number of people who remain at home when sick or dying of the virus where were accounted for, I wonder just where Mexico would rank the world index.

In what can only be framed as a keen strategic move, the Deputy Minister of Health recently announced a multi-million-dollar investment of government funds in promising vaccine trials. Given that there are five separate promising vaccines in the final phases of testing this is quite a gamble for a government that is unable or unwilling to take the necessary actions to save lives in the pandemic. Already the deputy minister of health has begun to fill his daily COVID report with information about the vaccine and the governmental support bringing concrete 'hope" for a swift end of the pandemic.

Health officials along with private contractors are showing extraordinary initiative and drive in their management of several concurrent large – scale vaccine trials as well as in scaling up industrial capacity for the early production of promising vaccines. One has to wonder if the same initiative and drive as well as funding was brought to bear on expanded testing and treatment how many lives could have been saved? Watch for health and government officials to focus their talk on vaccines to the exclusion of other things apart from the usual maps of Covid incidence and deaths inaccurately counting the infected and the dead across the country.

Alliance for Home-Based Covid care Update:

In our July communications, we talked about negotiations with Clinica GC to provide home-based care for Covid patients under Be Well supervision. Unfortunately, those negotiations fell through at the last moment. After weeks of meetings Clinic GC declared themselves unwilling to care for Covid patients. We are working hard to put a viable community- based response together but it will not be as comprehensive as we had originally planned.

As we look for other partner organizations to provide home-based care, we have found that physicians, nurses, and paramedics are reluctant to care for Covid patients in any non- professional environment. The risk of contagion is very high if they don't have a great deal of experience in managing Covid related respiratory distress. Simply practicing medicine of any kind while wearing full protective clothing is a skill that is hard to gain without a lot of experience.

Clinicians' reluctance to take on COVID care is quite understandable in an environment where health care workers are abused while going and coming from work. Once at work, they face chronic shortages of protective gear. In Italy crowds applauded health care workers at the peak of the Covid epidemic, while in Mexico it is not unusual for crowds to physically attack health workers in uniform and buses go out of their way to avoid picking them up.

Many clients of Be Well San Miguel have decided they do not want to be put on ventilators in the event of a respiratory emergency. Survival rates after intubation and measures of quality of life do not speak well for this strictly hospital-based emergency intervention. Star Medica in Querétaro, the best private hospital for quality Covid care asks for the equivalent of $35 to $50 thousand US dollars for prepayment of a Covid related hospitalization. Hence, home support for those in acute respiratory distress is the biggest loss in our efforts to provide home-based care for patients with the virus. We will, of course, be available virtually for anyone suffering from Covid and continue to look for a partner able to physically manage Covid patients.

Risk Reduction or Seeking "a Life" In Times Of Covid

Many months into the pandemic some of us are beginning to slip out of strict quarantine and tentatively engage in old behaviors we know are risky. These are activities such as getting a haircut or eating at a restaurant or seeing a friend or two. The concept of risk

reduction for people engaged in any activity that confers risk to life and well– being can be applied to Covid risk. Each activity we decide to engage in, that we might not have earlier in the epidemic, has a certain degree of risk. The risk reduction approach first and foremost accepts human frailty and gives you the tools to navigate risk more effectively.

As the restrictions of "shelter in place" take their toll, their impact on mental health is a concern we all share. Some people were lucky enough to have a partner to share the isolation. Those of us living alone are the most affected and many of us are paying a price in mental health or at least emotional well–being.

Mental health is key to the immune response as well as the ability to appropriately manage day to( never-ending) day risk. So, some people choose to accept the acknowledged degree of risk involved in resuming some of the activities that used to support the core of their well –being and identity. These include well-managed face to face interacting with a limited group of friends, shopping, and getting your hair done. These activities all confer varying degrees of risk of Covid but they also help people get through this epidemic with their bodies and souls intact.

There are nonprofit projects that supply masks and thermometers to low-income Mexican individuals and families as well as supplying protective gear to front line health workers in public hospitals and clinics. The two sites below contain information about these projects as well as an opportunity to support the critical distribution of protective gear and masks in the community and at health sites. Supporting these projects helps the entire community remain safer as we hope to move beyond sheltering in place and return to the activities of daily life. Anyone can purchase N95 medical masks and other high -quality cotton masks through the 19 SMA Community Mask Project. The masks are delivered to your door. For more information and opportunities to support this work Click Here and/or visit the GoFundMe page.

NEWEST DEVELOPMENTS IN COVID TESTING AND PREVENTION AS OF AUGUST 20 2020

It is important to understand the basics of testing for Covid in order to follow new developments in the field. These basics are short and fairly simple to understand. I am sure many of my readers understand more than the basics and can skip over this portion. Covid testing, as with most viral diseases, is based on identifying antigens and antibodies produced by those infected with Covid. Antigens are early signs of current infection while antibody development happens later in the course of any viral disease and with Covid does not reflect immunity but only that you had or perhaps have Covid infection. Antigens are the basis of current reliable testing for COVID.

PCR testing.

PCR testing refers to the identification of selected parts of antigens produced early in the infection process. The turnaround time for the usual nasal swab antigen or PCR can be up to two weeks in the states while usually, it is only three days with private labs here in Mexico. The cost is between $5,500 and $6,000 pesos at most laboratories. For more information on testing as well as free testing of symptomatic persons, you can reach the testing team through Joey Merrifield at 415-114 5009.

Rapid PCR Testing

Currently, rapid Covid PCR testing is not available anywhere. Anyone offering it in SMA is poorly informed or deceiving you by calling an antibody test on blood a "rapid test". Antibody testing is more rapid than PCR thus the confusion. As discussed above, this information tells you very little apart from the fact that you did or didn't have Covid at an unknown period of time.

Researchers at the University of Colorado Boulder believe they have developed a highly sensitive and specific test (ability to accurately test for something without false positives or negatives) with a turnaround time of 45 minutes. The test is done on sputum rather than blood or mucous membranes. If their findings pass peer review and the results are replicated this test could represent a huge advantage over current testing procedures. Note that the time it takes for new testing and even treatment to come to the market is far shorter than trials on healthy human subjects represented in vaccine development.

Antibody Testing

There are new developments in identifying which Covid antibodies in serum blood tests are most protective. Scientists are closer to identifying antibodies that confer immunity to the virus but are not there yet.

AeroNabs nasal spray

A molecular form of PPE (personal protective equipment) is being developed by scientists from the University of California San Francisco scientists that has the potential of halting the spread of Covid. They have identified a highly potent antiviral that can be used as an aerosol in a nasal spray. It both treats an early infection and can act to prevent infection.

If clinical trials are successful it could be self-administered as a nasal spray used once a day to provide reliable protection against Covid. If trials are successful the research team aims to make the spray available over-the-counter to prevent Covid.

VACCINES

A Vaccine against Covid

The development of a safe and effective vaccine that can be used across the many genetically diverse global populations has traditionally taken ten years or more. Promises are being made for a safe and effective vaccine that is ready for mass immunization in the early months of 2021. This speed (that feels like a millennium to all of us in shut down mode) reflects the collaboration of many global institutions, both private and public.

Vaccine research is done in three phases. Once any laboratory company or site reaches phase three it means they are engaged in large scale human trials in multiple sites. Just producing enough vaccine for phase three trials takes the investment of funds on an unprecedented scale from governments, multilateral organizations, and pharmaceutical companies. The next consideration is to assess country-level capacity to scale up vaccine production and distribution quickly and safely.

In a development that may surprise many of us, Mexico has been assessed as a viable candidate for vaccine production by at least two of the front running efforts aimed at producing vaccines. This is based on Mexico's successful participation in phase three trials and its well -developed pharmaceutical industry. The other key factor is government cooperation and lastly the size of the potential market. These considerations have logically led to the selection of some of the hardest-hit countries including Mexico, Brazil, South Africa, India, and Indonesia.

Mexico and Argentina recently joined forces and allocated millions of dollars from their health budget to AstraZeneca one of the companies judged to be a first runner in the bid to produce the first vaccine for mass immunization. This bi-country allocation also saw a large injection of private funds from the Slim Foundation in preparation for a Mexican produced vaccine ready for mass immunization. This is quite a gamble using money we thought scarce however it does mean that the first vaccine against Covid may in all probability be available and free in Mexico sometime in the first quarter of 2021.

The United States is showing signs of funding only trials and mass production efforts of American based companies. This myopic approach to a global pandemic could leave the United States out "in the cold" if other vaccines with multilateral funding prove to be effective and safe before any American based contender. The US will need a nimble and internationally focused response as soon as a successful vaccine, developed outside the US, is identified and ready to use.

Ignoring the Russian Vaccine (as we know nothing about its safety) the front runners for a fully effective single-dose vaccine are decidedly un-American. The front runners are three Chinese companies Sinopharm, Sinovac, and CanSino and one solely European based company AstraZeneca which is pulling to the lead with its Mexican and Brazilian trials.
WHAT 

BE

WELL CAN DO FOR YOU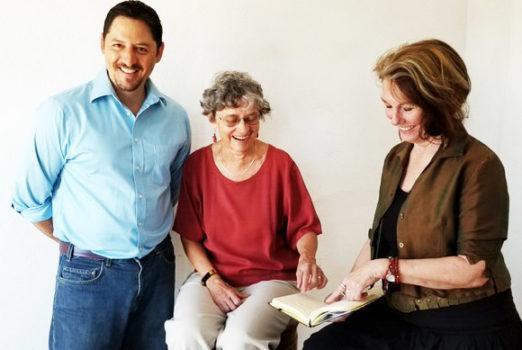 Identification of a COVID Free Hospital : Hospital San Jose de Moscoti
Be Well has identified a high-quality Covid free hospital, San Jose de Moscoti in nearby Juriquilla area of Querétaro. It is about 35 minutes from SMA. We recently developed a relationship with this new hospital allowing us to negotiate competitive prices for our members. Dr. Emilio Ramirez, a partner in Be Well, has privileges there if you need to be hospitalized. The hospital has 24/7 emergency room physicians as well as intensivists available around the clock. Be Well advocates can accompany or follow patients undergoing procedures or during hospitalizations.
We can help you negotiate very competitive prices for planned procedures as well as emergencies and Dr. Ramirez can manage your care while you are there.  Moscotti is and will remain Covid free. 
The street address is Av. De las Ciencias 2070 Rancho Largo and is right next to the new HEB store for those of you still shopping. Phone 442 189 3660 
Quick Access to Our Team of Well Vetted Specialists
Some of you will need direction managing issues that come up with Covid from the stress of isolation, finding safe care for a fracture, or the development of a racing pulse. We work with very well-regarded specialists out of Querétaro and Celaya
If you are hospitalized at Moscati we can find the right price for your care and if needed can help organize your care. They have a very talented bilingual concierge in the day but at night there are few English- speaking nurses. If needed we make ourselves available by phone around the clock.
We also help foreigners write living wills legal in Mexico. Something particularly important now in Covid times. We work in partnership with a lawyer and notary and we have a smooth process worked out that requires the minimum of contact.
If you become a member of Be Well San Miguel, we are available 24/7 and can put you in contact with our partner Dr. Emilio Ramirez in any urgent setting.
Finally, we are keeping up with the flood of information about possible treatments, prevention technology, and emerging vaccines research.
We are a team of clinicians who have a wealth of information to share. We share in monthly newsletters, talks, and through social media. This includes the very social civil list.
For more information about this email contact Deborah Bickel at 415 115-7815 deborah@bewellsanmiguel.com
For more information about Be Well contact either Sue Leonard at 415 103 3952 sue@bewellsanmiguel.com or Deborah contact info above.