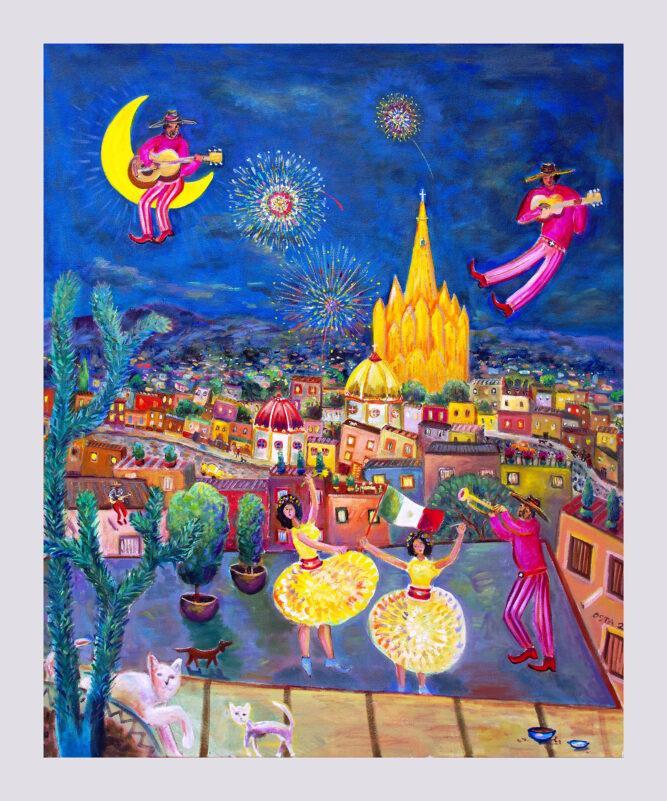 This is the December 2022 Newsletter for Be Well San Miguel Patient Advocacy Services sent to members and friends of Be Well. 
In this issue, you will read about new additions to the benefits of a BeWell membership. In a followup newsletter that will be out in a few days, we will have an excellent essay stressing the importance of planning for the unexpected, featuring a piece by Wendy Jane Carrol, a writer and advocate for patient rights,
Be Well San Miguel has been the very fortunate benefactor of a long-term relationship with Osta, a Ukrainian expatriate now living in Mexico. Much of his arresting work has come to represent San Miguel de Allende and after many years of our close relationship with him as a graphic artist, writer, and friend his art is also associated with the health services of Be Well San Miguel.
New Benefits for Members of Be Well San Miguel 
Pharmacy Discounts 
We have recently negotiated a discount at Farmacia Guanajuato across from the English library at 74 Insurgentes. Phone 52-415-152-6090. They open at 9 am and close at 9 pm. They have a free delivery service. They do not have English speaking pharmacists, but they are very responsible and if you are a member and need their services you can contact me and I can place an order for you. This discount does not apply to any sedative or other restricted medications.  They take orders the day before delivery. I have used them for seven years now and cannot recall a single error or delay in delivery.
Discounted Burial Plan
We have also negotiated a discounted burial plan with Nueva Vida burial services that makes their services far less costly than those of the 24 Hour Society. The cost for an advance plan is thirteen thousand Mexican pesos, or approximately $650.00 US dollars. The single drawback is that at times there is a delay before an English-speaking agent or assistant can be reached. For Be Well members this presents very little problem as Dr. Ramirez and myself speak both English and Spanish.
Engaging their services after a death brings the cost up to $18,000 pesos or approximately $900 USD. Deaths outside SMA carry an extra cost.  Their competition is the 24-Hour Society, which costs $1000 USD for an advanced plan. Both costs apply to cremation only. Burials are nearly double these amounts. The 24 Hour Society will say that they are better able to do the paperwork necessary in the event of the death of an expatriate, but this has never been true in my experience and I have been at deaths where both services were used. For those of you interested in more information about their services, contact me or their general manager Gustavio Yañez Rios at 415 105 5428
Couple Membership Discount 
For two people living in the same household, we are offering a $200 US dollar discount if medical history intakes and paperwork are done at the same time.
Clarity About Quarterly Discounts 
We do not offer quarterly discounts to full time residents of SMA. This reduced price is meant to serve the "snowbirds" who are here less than six months of any year. The price is for three months of service. You do not have to tell us in advance which months, but we do want to know when you return or leave SMA so that we can adjust our patient database.This is all for today. In a few days you should be receiving an informative newsletter from us, dealing with a number of important health-related topics. Reporting from San Miguel de Allende, Deborah Bickel, BeWell San Miguel